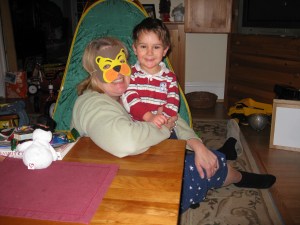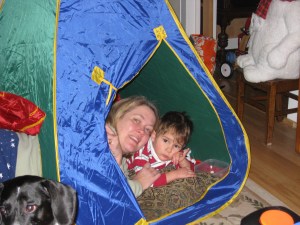 Because we did adopt Wallace, I can say that the adoption process worked. However, I cannot say that Elisabeth and I walked through a wardrobe into a magical land of Lions, lush green hills, and Turkish delight.
Our adventure really coalesced when we bought our first (and only) house in 2004. We bought a house built in 1912 with all of the modern amenities of the early twentieth century. [1]The door bells are actual bells attached to the original doors. Back before electricity, visitors would turn the knob of the doorbell to manually ring the bell. Wallace likes to ring these bells now because it gets the dog all excited.
When we first visited the house, the owner at the time had a young boy who had a very cute bedroom.
"Can't you just imagine our own child in this room?" I asked.
"Yes. Yes, I can." said Elisabeth.
"We'll have a lot of work to do on this house."
"We're ready to work and we need to have a home if we want to adopt."
Elisabeth and I went on to buy this house and still live in it today. On the day we closed, about four inches of snow fell. I celebrated home ownership by shoveling the sidewalk. The conversation about the child's room did help Elisabeth and me to sharpen our goals. First, we needed to move out of Elisabeth's mother's house and get our own home. Second, we need to actually start the adoption process.
We did not know how to research and select an adoption agency. Yahoo and Google helped give us leads, but many phone calls and emails fell to us to make. There are hundreds of adoption agencies in the United States. Elisabeth and I had agreed that adopting from Russia would be a good choice for us. We pared down our list until we finally contracted with an agency in Orlando, Florida.
Our adoption process ultimately proved successful. What Elisabeth and I know now however, makes us shudder at how easily everything could have failed. Elisabeth and I had the noblest of intentions in 2004 and we still do. [This whole book is about our adopted son.] The road to adopting from Russia in 2004-05 definitely took us through the "shady side of town." The best example I can give is that our adoption agency in Orlando closed under dubious circumstances not long after we completed our adoption.
Before I digress too much, I turn to the part where Elisabeth and I had to put together a dossier on our lives.
"We'll do the hard part. You just have to track down the documents and we'll put together your dossier." promised Allan[2], the head of our adoption agency. With that promise, Elisabeth and I made signed the contract with our adoption agency. Welcome to September 2004.
"We have put together so many dossiers for prospective adoptive parents that we can do your dossier faster than you can." was another of Allan's statements of fact. By "fact," I refer to satirist Stephen Colbert's great word, "truthiness." Allan sounded great, but actually ignored logic and intellectual examination of the issue. For example, Elisabeth and I had to procure all of the documents on the list below. The documents then had to be apostiled in New York, but we first had to send the documents to our adoption agency in Orlando. This actually added time.
In fairness to our adoption agency, their work did reduce our stress in the beginning. It is daunting to put together an adoption dossier for use in a foreign country. Allan's promises, though, turned out to be rosier than real life.
Any adoption, foreign or domestic, consists of two basic parts. The first part is where the prospective adoptive parents show that they have the ability to parent a child. Elisabeth and I had to put together our dossier of the following information:
Short life histories for each of us (Elisabeth made me take out the part where I won a Noble Prize for inventing socks.)
Medical exams and medical histories
Income verification
Criminal background checks, including finger prints taken with the New York State Police and a letter from our county sheriff
Child abuse background checks
Proof of home ownership, or formal lease, including proof that our property taxes were paid
Confirmation that we had no previous contract with Rumpelstiltskin
Personal references
Home study by a licensed social worker
Every single document had to be notarized and then apostiled. The paralegal at my law firm graciously agreed to accompany me to my doctor in order to notarize my physical examination. That led to an interesting conversation with a work colleague:
"Mary, can you notarize a document for me? It is a simple little thing."
"Sure, Tom. What is it a will or deed?" said Mary.
"Actually, I need you to go with me to my doctor's office and notarize my physical. It's part of our adoption dossier."
"Whoa. I am happy to help with your adoption, but I draw the line at watching you get a physical. Where and to what would I imprint with my notary stamp?" said Mary.
Thoughts of a sexual harassment lawsuit and divorce filled my head.
"Oh, sorry," I replied. "I didn't mean…I was just…ummmm." "The physical already took place. I need you to notarize the form that the doctor has to sign."
"Well, that's different. Of course I will notarize your doctor's signature."
As we finished gathering all of the required documents, our adoption agency scheduled our home study with a social worker.
The home study was an interesting afternoon for us. Our adoption agency arranged for a very nice person to visit us and insisted that no other social worker would do. Allan at the adoption agency seemed convinced that neither Elisabeth nor I had the skills required to hire a social worker here in metropolitan Jamestown.
This social worker our adoption agency hired lived in the New York City area, about a six hour drive from Jamestown. In order to get to scenic Jamestown, Linda[3], the social worker decided to take a train to LaGuardia, flew to Buffalo, and then rented a car and drove to Jamestown. This was probably the most convoluted travel schedule for a social worker who lived in the same state as us. [For our post-adoption reports, Elisabeth and I found a social worker that lived about twenty minutes from our house.]
Anyway, Elisabeth and I duly cleaned our house and told our dog, Chip, to be on his best behavior. Chip seemed a little put off by the whole affair.
"Welcome to our home," said Elisabeth as Linda arrived.
"Thank you. You live so far away!" replied Linda.
"Well, not to us," I said. Elisabeth gave me the evil eye.
Linda seemed confused. "I thought Jamestown was in Pennsylvania."
"I think you are confusing us with Johnstown which is in Pennsylvania."
"Oh. I see. So you didn't have the flood?"
"Ummm, no. Jamestown is famous for being the home of Lucille Ball."
"I just love Lucy!"
I offered to show to Linda Ms. Ball's grave in the cemetery about two blocks away and then Elisabeth kicked me under the table.
We then all sat around our kitchen table and talked about life for a while. Early October brings out vibrant colors in western New York. The conversation about autumn, kids' activities, and football seemed casual, but Elisabeth and I knew that this meeting was an important milestone in our quest to adopt a child. The social worker's report was a key element in our dossier, one that was very subjective.
Elisabeth and I enjoyed talking with Linda. She took notes as we talked. Some of the questions seemed obvious:
"Why are you adopting?"
"Tell me about your experience with fertility treatments."
"Where will your child go to school?"
"How do you feel about corporal punishment?"
"Have you talked with pediatricians in the area?"
"How will you handle discussing your child's birth parents with your child?"
Elisabeth and I answered honestly. We had discussed many of these issues prior to meeting Linda. Still, we were nervous. Linda then veered off into the world of professional football. Linda wanted to know if we were fans of the Buffalo Bills.
"So, do you root for the Bills?"
"I do," said Elisabeth with a big smile.
"I actually root for the New England Patriots. We are what you call a mixed marriage."
Linda, the Jets fan, did not know what to think of us. The visit had gone well and then Linda asked for a tour of our house. When we showed her the child's room, Elisabeth and I were sort of embarrassed. The room was completely empty but we did not want Linda to think that we were shirking our duties as prospective parents.
"We do not want to buy things or decorate until we know our child is coming home." said Elisabeth.
I chimed in, "The pain of infertility combined with the uncertainty in the adoption process makes us not want to get our hopes up. Neither one of us can bear to look in a fully furnished child's room for months or years when we do not yet have a child."
We held our breath for a moment.
"I agree with you entirely. Don't furnish the room until about one or two weeks before your child comes home. Otherwise the emotional pain can be tremendous."
Elisabeth and I breathed a huge sigh of relief. We then showed Linda the rest of the house, including our finished attic. The only negative comment Linda made about our house was that we needed a handrail on both sides of the stairs leading to the attic. With that sage advice Linda deemed Elisabeth and me fit enough to adopt a child. Linda's written report became part of our dossier. I think we received the report on Christmas Eve that year. Thank you FedEx.
Because we planned to adopt from a foreign country, Elisabeth and I also had to apply for permission to adopt with the federal Department of Homeland Security. This meant, among other things, a trip to Buffalo to be fingerprinted again. Elisabeth and I drove up to Buffalo on the day before Thanksgiving in 2004. Of course it snowed the entire time we were driving. We did not know it then, but exactly one year and one day later, we would pick up Wallace from a Russian orphanage. On this snowy day in 2004, however, our biggest concern was getting out of Buffalo before the afternoon traffic started.
The specific entity in the Department of Homeland Security, United States Immigration and Citizenship Services ("USICS"), processed our application to be approved as adoptive parents. USICS, just like the Russian government, wanted to make sure that Elisabeth and I had the wherewithal to adopt and care for a child. More importantly, we had to show to USICS that we were adopting a true orphan. As annoying as governmental agencies can be, Elisabeth and I understand that our federal government tries to prevent human trafficking.
It took us about six months to get everything together, notarized, and apostiled.[4] Our adoption agency promised to get the documents apostiled and they did for the first round. Elisabeth and I later learned that adoption dossiers are like cartons of milk: they all eventually expire. This expiration date issue became known to us about a year later. First, Elisabeth and I had to finish everything in 2004.
Elisabeth's first set of fingerprints at Homeland Security were not legible. That meant another trip to Buffalo for Elisabeth. Elisabeth's second set of fingerprints were legible and Homeland Security soon cleared us to adopt from a foreign country. Our adoption agency informed us in the spring of 2005 that our dossier was complete and accepted by the Russian government.
All of that was only the beginning.
[1] I embellish only a little.
[2] Allan is not his real name. Because our adoption agency failed under uncertain circumstances, I do not want to give "Allan" any actual publicity.
[3] Linda is not her real name. The only reason I use a pseudonym is that I forget Linda's real name.
[4] I will explain more about apostiles in a later post. For this part of the story, apostiles meant about a month of mailing documents to a state office in Albany.