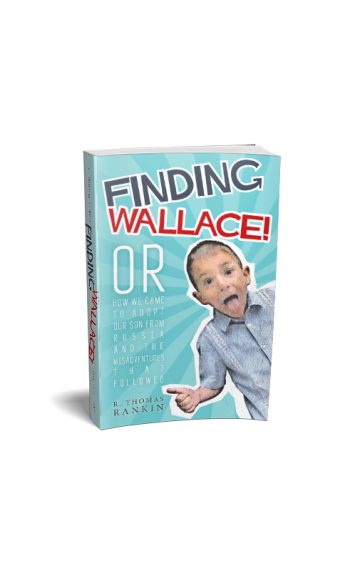 $14.95
Publisher:

R. Thomas Rankin

Available in:

Paperback, eBook

ISBN:

978-0-9991592-1-7, 978-0-9991592-0-0
Buy on Amazon
Download the eBook
International Adoption!
Russian Intrigue (well, sort of)!
Humorous Adventures in Parenting!
Tom and Elisabeth Rankin adopted their son, Wallace, from Kemerovo, Russia in 2005.  Finding Wallace tells this story.  From collecting all sorts of paperwork for their adoption dossier, to family court in Russia, and to an emotional homecoming, learn about the Rankin's perseverance as they become a family through adoption.
International adoptions do not end with the family arriving back in the United States.  Tom and Elisabeth soon learned that Wallace is a special needs child.  Wallace faces significant mental health issues everyday including ADHD and Reactive Attachment Disorder (RAD).  Hilarity and heartbreak truly follow Wallace, Elisabeth and Tom.  Read Finding Wallace for a warm and humorous look at one family's international adoption experience.