A Trip to Erie That Melted Mom's Heart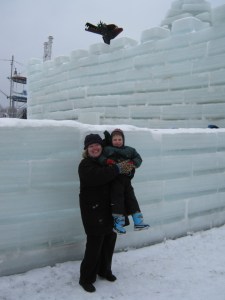 "The ice is really bad, honey. We may have to turn around." said Mom.
A relatively uncommon ice storm had moved through the area and driving on the interstate was not easy. Then Mom looked at Wallace.
Earlier In The Day
"Mom, can we go to Toys R Us today?" said Wallace, his face showing an earnest plea yet not wanting to be let down.
We enjoy living in a small town and the less hectic pace of the big city. However, scenic Jamestown does not have all the retail establishments commonly found in other areas. Local residents literally cheered when the "fine dining" Panera establishment finally opened in Jamestown. Our local newspaper ran a front page story when the new truck stop opened at our exit on the interstate highway.
One store the Jamestown area still lacks is a Toys R Us. We have to drive to Erie or Buffalo to find a Toys R Us.
"Sure honey. Get your gift card."
Wallace had never been to a Toys R Us and visiting the store had become a real dream for him. This past Christmas [2014], Wallace's grandparents gave him a Toys R Us gift card. On the last Saturday of winter vacation, Wallace and Mom decided to drive to the big city of Erie (Pennsylvania) to go to the Toys R Us there.
Unfortunately, it was about 29 F and and the roads were icy.
There were a few cars that had slid off the road and Mom was nervous. Mom told Wallace that they might have to turn back because the roads might not be safe. Wallace looked at Mom, sighed heavily, "I understand, Mom."
He held his Toys R Us gift card in his hand like it was a gift from Heaven. Wallace's face could not mask the extreme disappointment and sadness. As Wallace turned to the window, Mom could see tears roll down his cheeks.
Have you ever come close to fulfilling a lifelong dream only to fail at the very end?
Mom saw the tears on Wallace's face and pressed on. On this day, Mom would make sure that Wallace was not thwarted in his quest to go to Toys R Us. They made it safely, if very slowly, to Erie. The words on this page cannot really express the pure joy on Wallace's face as they pulled up to the Toys R Us. "We made it!" said Wallace as he bounded out of the car.
Wallace and Mom stayed in Erie for a while as the temperature climbed above freezing. Wallace used his gift card for some cool stuff. Wallace also thought about Mom and Dad bought them each a small toy.
Wallace had also brought along a McDonald's gift card that he had saved. "Mom, let me get your coffee today. Thanks for taking me to Toys R Us." said one happy boy. I think Mom was just as happy.
Wallace Tells The Clapping Monkey To Be Quiet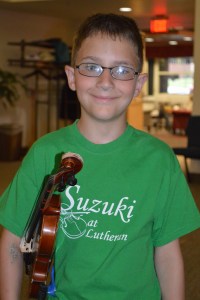 Attention Deficit Hyperactivity Disorder is a difficult disorder. ADHD truly does represent a physical problem in a person's brain. ADHD is a very real problem for children and adults. When I first learned of ADHD (then called ADD), I thought it meant that parents were not paying enough attention to their kids. They lacked attention. It seemed so simple and I could not understand why kids needed medication so their parents would pay attention to them. I was wrong about that[1] and have tried to learn more about ADHD.
At this point, I will be referring to the National Institutes of Mental Health (NIMH) which is part of the National Institutes of Health. The NIMH is a U.S. government institute whose stated mission is to "transform the understanding and treatment of mental illnesses through basic and clinical research, paving the way for prevention, recovery, and cure."[2] The NIMH has, and continues, to extensively research ADHD's causes and treatments.
The NIMH website puts the neurological causes of ADHD in a very succinct paragraph which I now shamelessly quote:
"Brain imaging studies have revealed that, in youth with ADHD, the brain matures in a normal pattern but is delayed, on average, by about 3 years. The delay is most pronounced in brain regions involved in thinking, paying attention, and planning. More recent studies have found that the outermost layer of the brain, the cortex, shows delayed maturation overall, and a brain structure important for proper communications between the two halves of the brain shows an abnormal growth pattern. These delays and abnormalities may underlie the hallmark symptoms of ADHD and help to explain how the disorder may develop."[3]
If I correctly understand the above explanation, a child with ADHD has a brain that matures more slowly than a child without ADHD. Eventually, the brain of a child with ADHD does catch up with overall maturation. The cortex part of the brain, however, may show an abnormal growth pattern.
The tough part as a parent is not being able to see the physical issue with the brain. You can easily see a child with a broken arm or a child who is small for his or her age. A parent, unless s/he is a neurologist with horribly expensive imaging equipment at home, cannot see a slowly maturing brain. There is a temptation, as a parent, to imprecisely think of ADHD as some sort of generic label for kids who cannot sit still.
That brings me back to our clapping monkey. Most days, Wallace seems to be in constant motion. Wallace, for example, cannot sit still while watching television. He rocks back and forth (when not sitting next to either Elisabeth or me) so much that he burns more calories in thirty minutes than most people burn at the gym on any given day.
Wallace, however, can pull it together when he must perform with his violin or sing in the children's choir. Elisabeth and I are amazed every time we go to one of Wallace's concerts. He stands right up, does his job, and does not fidget at all. One time, Elisabeth asked Wallace about how he can be so still when performing.
"Mom, you know those clapping monkey toys than bang cymbals together?"
"Yes, honey."
"Well, it's like I have one of those on my head and it is constantly banging. But when I must play my violin in a concert, I can tell the monkey to stop and he does."
Wallace was eight or nine when he made this observation and it still resonates with us today. I cannot imagine going through life with such "noise" constantly in my head. Sometimes, I just want to weep for Wallace, but, mostly, I am amazed at how much he can actually do in life.
[1] I also think the first Star Wars prequel is not as bad as people think.
[2] http://www.nimh.nih.gov/about/index.shtml (last checked on 06 July 2014)
[3] http://www.nimh.nih.gov/health/publications/attention-deficit-hyperactivity-disorder/index.shtml (last checked on 06 July 2014) (The NIMH website has three citations in this paragraph which I removed to keep the explanation less cluttered.)