Wallace can be a very outgoing young man. He often knows more people at the grocery store than I or Elisabeth do. In many ways, Elisabeth and I feel glad that Wallace feels comfortable engaging in polite conversation. This skill can help Wallace for the rest of his life.
Wallace also possesses a keen sense of curiosity. A boy about ten or eleven seeks to do things that maybe an adult would not. What happens when you stuff popcorn in your nose? What will Mom and Dad do if I wear the same socks for three days in a row?
This past summer, Wallace decided to conduct a little experiment in a public restaurant. Elisabeth nearly died from embarrassment.
The Taco Hut Affair (Part I)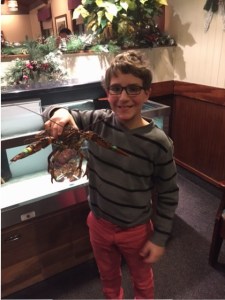 August signaled that summer was winding down and Elisabeth and Wallace went to one of our fine local dining establishments, Taco Hut, for lunch. Wallace asked to play a game on Elisabeth's phone as a way to pass the intolerable wait for his 3 taco lunch (hard shells with a side of pickles).
Elisabeth let Wallace play his game where he saved planet Earth from zombies and/or girls. The next thing Elisabeth knew, Wallace was standing in the restaurant's kitchen area surrounded by employees. "What did he do now?" thought Elisabeth. As it turns out, Wallace was in search of the Taco Hut Wi-Fi password. Wallace, without any hesitation, marched into the kitchen area and started asking each employee for the Wi-Fi password.
Wallace was only ten and failed to understand the basic concepts of a broom and sweeping. This has not changed at the ripe old age of eleven. When it comes to the Interwebs, however, Wallace is fast becoming a little Sheldon Cooper.
Elisabeth apologized profusely to the restaurant staff who were actually nonplussed about the situation. "He's cute and entertaining" one waitress said. Book early to have Wallace perform at your holiday party or wedding.
Lunch finally arrived and Wallace announced that he had to go to the restroom. This is where things get strange.
The Taco Hut Affair (Part II)
"Mom, I have to go to the bathroom!" exclaimed Wallace and off he went.
Elisabeth noticed that Wallace stopped at the cashier's desk and asked for a small "to go" box before he went to the restroom. "What is he doing?" thought Elisabeth.
Wallace came out of the restroom a few minutes later carrying his white food container. He then spoke to a waitress who apparently declined Wallace's offer. Another waitress also declined Wallace's offer before Elisabeth could get to him.
Now, you may be thinking the worst right now. It was after hearing this that I started having chest pains. Elisabeth then told me the full story.
Wallace actually used his restroom time to make some slime using a large quantity of liquid soap and some water. He put his homemade slime into the white food container. Wallace then proceeded to ask the restaurant staff if they wanted to see his slime. Wallace had conversed with two waitresses before Elisabeth was able to dash across the room and intervene.
Actually, Elisabeth was relieved considering what she thought was in the container. Elisabeth escorted Wallace back to their table whereupon they commenced eating. Wallace's white container sat prominently on the table.
Elisabeth and Wallace managed to finish their lunch without any more incidents until they got ready to leave.
As they stepped outside, Wallace opened the container and took out a big handful of slime. "Look, Mom!" he gleefully said.
Elisabeth ordered Wallace to go back inside the Taco Hut and wash his hands while she found the nearest rubbish receptacle for the slime container.
Some tacos were indeed harmed in bringing you this report.