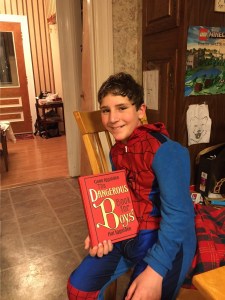 What does an eleven year old boy do about the whole "Santa Issue?" Believe? Not believe? How do you get from Thanksgiving (at 4:30 AM) to Christmas morning without bursting? These annual conundrums seemed more insurmountable than ever in 2015.
The Rankin family always tries to observe Advent and the anticipation of Christmas. Sometimes, I lose sight of Advent when grocery stores put out Christmas decorations in October. Wallace starts his Christmas list sometime around Halloween.
Wallace presented his semi-annual Christmas list as I mentioned above. Elisabeth and I vetoed a turtle right from the start. We apparently dashed Wallace's dreams of joining the Professional Turtle Race League. Here are some other items that Wallace had asked to receive:
A Luigi board

– We think he meant a Ouija board but are not quite certain.

A pair of LeBrons

– Wallace does not really know how LeBron James is, but he does know that LeBron has great shoes.

An MP3 player

– Wallace cannot remember if he is wearing his glasses or not. Wallace, on a cold, snowy day, will forget to put on shoes unless we remind him. No, small expensive electronic items will not find their way into Wallace's stocking this year.

Socks and underwear

– Wallace did not actually ask for these things (and neither did I). One member of our family believes it to be her solemn duty every Christmas to present these things to the males in the family. This year, Wallace turned the tables and gave socks to this unnamed member of the family. Wallace might have set himself up to receive a pink bunny suit next year.
Just before Christmas, Wallace received a Little Caesar's gift card as a present. The first and only thing Wallace wanted to do was get dinner for the whole family. So, the other night Wallace (with Mom's help) bought pizza to take home. Wallace thought we needed a side dish and found an ancient package of vanilla snack pudding cups. Seriously, this stuff could be on Antiques Roadshow which says something about our pantry.
Anyway, Wallace himself got out the paper plates and "plated" all of the meals. Wallace also found a completely unexpired container of applesauce and then announced, "Whoever finishes dinner first can have the applesauce." With Mom's help, Wallace put out glasses of water for everyone.
It was a lovely dinner. [No one ate the pudding and the applesauce remains unclaimed.]
Elisabeth and I sort of cajoled Wallace into participating in the annual Christmas pageant at church. Wallace passed on the opportunity to play Joseph feeling that, at age eleven, he was too old for the part. Instead, Wallace opted to play one of the three kings/magi.
The very nice woman in charge of costumes found crowns for all three of the magi, but the crowns were adult sized. A quick insertion of foam around the inside fixed the problem. However, the crowns sort of looked like halos. I guess it was a minor Christmas miracle.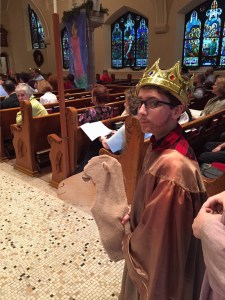 Being a king/magi, Wallace also got to wear a beard. Using the finest cork money could buy (i.e. a bottle of Kendall Jackson chardonnay), the St. Luke's Episcopal Church Makeup Department helped many young actors "grow" realistic beards. Most of Wallace's beard ended up on his sleeve by the end of the service. Wallace now thinks burnt cork should be a regular part of his morning routine.
The Christmas pageant proved to be a success. We could not get a real donkey upon which Mary could ride. ["I'm not cleaning up that mess!"] However, our rector did cast a chocolate Labrador Retriever in the role of the rider-less donkey. The angels, shepherds, animals and narrators all performed admirably. There is talk now of St. Luke's opening a dinner theater using all child actors.
Wallace acquitted himself well. No frankincense landed on the floor. Wallace even consented to letting me brush his hair as opposed to his usual "bed head du jour."
Before turning to Christmas morning, I look back at Thanksgiving morning when Wallace woke up at 4:30 AM. I guess the excitement of eating turkey and watching a parade on television was more than Wallace could take. Clearly, Elisabeth and I needed to come up with a plan to keep Wallace in bed until a more reasonable hour on Christmas Day.
Our plan consisted of telling Wallace many times that if he got up before 7:00 AM on Christmas morning that I would get up with him. Wallace would then do math homework while we waited until 7:00 AM.
Well, Wallace did wake up at 5:30 on Christmas morning. Elisabeth chased him back to bed which lasted for about twenty minutes. Wallace next crawled into our bed and this, surprisingly, lasted about half an hour. Wallace then went back to his room. Finally, at about 6:45 AM, I got up.
Wallace and I then fed the dog and cat. I warmed up the coffee machine just in time for Mom to come downstairs. Thereupon the great Christmas Unwrapping of 2015 began. We all received very nice presents. One present for Wallace, however, stood out.
Wallace practically screamed loudly (very loudly) when he ripped off the wrapping paper with his new Lego Star Wars Millennium Falcon kit. Shrieks of joy rang throughout the north side of Jamestown. The kit, all 1329 pieces of it, really ranks high on the Wallace's scale of really cool toys. Elisabeth and I were aghast to see a grey-haired Han Solo as a Lego figure.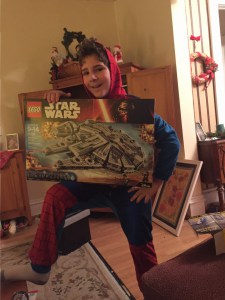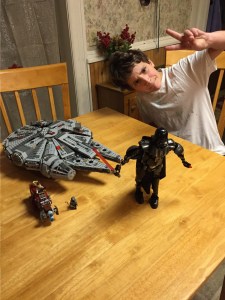 It took Wallace only two days, and about 47 swear words, to put together this Lego kit. This kit was the most intricate and complicated Lego kit Wallace has ever assembled. The Mid-East peace talks are mere child's play compared to the Lego Star Wars Millennium Falcon kit. Wallace could now engineer his way through a zombie apocalypse as long has he has enough Legos.
To sum up this Advent and Christmas season:
Small animals, large shoes, and Luigi branded items = no
Terribly complicated Lego kits = yes
Christmas Pageant = a modern retelling involving a Labrador Retriever
Alarm clocks = not set for 4:30 AM
Elisabeth and I cannot wait to see what happens in 2016.