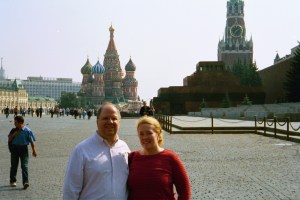 In 2005, Russia required foreign adoptive parents to make two trips to Russia. The first trip was to meet our prospective child. The second trip was to formally adopt the child. In between was a frantic paperwork chase and nervous waiting.
Elisabeth and I made our first trip to Russia in September 2005. We did not know if we would ever again visit Moscow with the opportunity to do some sightseeing. We decided to add two extra days to our trip so that we could see the sights of Moscow then we would fly to Kemerovo to meet a very young boy.
Our flight from Moscow to Kemerovo was scheduled on Aeroflot, an airline that had a very strict weight requirement for checked baggage, only 44 lbs. (20 kg) per bag, and we could have only one checked bag each. Though it was warm in Jamestown and Moscow, the weather had turned cool in Kemerovo. We needed to bring both warm weather and cool weather clothes thereby adding weight and bulk to our baggage. I carefully weighed each suitcase before leaving for Buffalo. Sadly, the emergency cans of Spam had to come out but then both bags weighed less than 44 lbs. each.
"Did you really put a can of Spam in your suitcase?" asked Elisabeth
"Of course," I answered, "What if there is a blackout while we are in Kemerovo and we can't leave our hotel for a few days?"
"For a smart, caring, lovable guy, you can be a real dork sometimes."
Our route took us from Buffalo to Chicago to Frankfurt to Moscow. "Mind numbing" does not adequately describe this little series of flights.
We landed at Terminal 2 of Sheremetyevo Airport near Moscow. The Soviet government built Terminal 2 for the 1980 Olympics and had yet to remodel this showcase of communist design. Clearly the Soviet government had used unemployed prison architects to design Sheremetyevo Airport.
I had previously arranged for the "Fast Track" service for Russian passport control and customs. Two very attractive Russian women met us at the airport and took us to the diplomats line to have our passports duly stamped. This avoided the very crowded regular passport line. After retrieving our bags, another very attractive Russian woman took us through customs (nothing to declare) and no one stopped us. Elisabeth was both very happy and very annoyed with me.
After customs, our interpreter, Sergei met us. At this point, it was about 6:45 PM Moscow time, or about 10:45 AM in Jamestown the day after our departure. In other words, we had been awake for about thirty hours and were starting to get a little goofy.
All of the hotels we contacted in Moscow wanted from about $200 to $400 per night. That was too rich for us. Neither Elisabeth nor I felt comfortable having other people make hotel reservations for us due to some bad experiences when we lived overseas. After some online research, we decided to rent an apartment for our 2-day stay in Moscow for less money than most hotels. Sergei and our driver, Viktor, drove us into Moscow, about a 30 minute drive. Our apartment was right on Arbat Street in Moscow, a big tourist area.
"You rented an apartment on Arbat Street?!?" exclaimed Sergei, "Do you know where Arbat Street is?"
"Ummm, no. We've never been to Moscow before."
"Arbat Street is closed to motor vehicles! I hope Viktor can find a parking spot."
It took Viktor some time to find the best place to park near our apartment. I learned some new Russian swear words that night.
One of the requirements we had for our apartment building is that it have elevator service. Our particular apartment was on the 6th floor. Technically, our apartment had a working elevator. The elevator's bottom floor, however, was on the 2nd floor. This meant we had to haul our bags up a flight of stairs to get to the elevator. Always read the fine print even if it is in a language you do not understand! Sergei was annoyed but tried to be upbeat.
"You know this could be a nice place, but next time can you coordinate with me on this 'apartment rental' business?"
"We are sorry for the trouble. The online brochure implied that driving to this apartment was not difficult and that Sheremetyevo is a wonderful airport. Thank you for getting us here."
Sergei helped us get situated in our apartment and then took me to exchange some money. Sergei also pointed out the supermarket nearby. We then bid Sergei "good night", and went shopping. We bought bread, cheese, ham, bananas, bottled water, and juice. Not exactly a gourmet dinner, but we liked it. The best part: our apartment came with satellite TV and we watched "Mythbusters" in English while we dined. We then showered and crashed.
We met Sergei at 9:00 AM the next day and walked down Arbat Street and then over to the Kremlin. It was mild, but muggy that day. There was a line of folks waiting to get into the Kremlin when we arrived. We purchased our tickets; Sergei paid only 1/5 of our ticket cost because he is a Russian citizen. The line eventually brought us to the security check point, just like an airport security check but without an x-ray machine or "fun" pat down.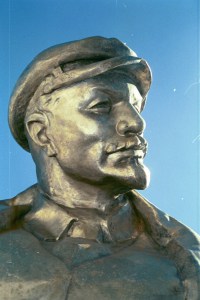 The Kremlin is the official place of government in Russia and was once just a big fort. Many Russian Orthodox churches are located inside the Kremlin. Consequently, there are many government buildings and churches within the Kremlin compound which is interesting when you consider Russia's communist past.
We toured the various churches in the Kremlin. We also saw some of Napoleon's cannons he left behind as he retreated from Russia and one gigantic bell. I kept asking where Pierre Bezuhov was, but no one got the joke. It is cool to say "I visited the Kremlin," but it is not exactly an "action-packed" experience.
From the Kremlin, we walked over to Red Square. Here, one can see Lenin's Mausoleum and St. Basil's Church. Lenin's Mausoleum was closed when we were there, but we were not bitterly disappointed. One little fact we did learn: in the Soviet Days, on May Day, the Soviet leaders would watch the parades from atop Lenin's Mausoleum. That would be similar to United States leaders watching an Independence Day parade from the top of George Washington's crypt.
St Basil's is the iconic symbol most people picture when thinking of Moscow. You know, the onion dome church. One long side of Red Square is a wall of the Kremlin and the other long side is the GUM department store (now a mall) which used to be one of the few places in Moscow to buy western-made goods. It is a very, very large building.
I next wanted to see Tolstoy's house and Elisabeth rolled her eyes. Sergei flagged down a person driving a government car. For about $3.33, this person took us over to that part of town. We would not have flagged down a random car without Sergei's help. That seemed just a little strange to us.
Elisabeth asked, "You mean government workers use their official vehicles as personal taxi cabs?"
"Sort of," said Sergei, "They can give rides for pay for short trips that do not take a long time. This is normal for us."
"You're sure this is safe?" I inquired.
"Yeah, mostly."
I wondered if our next stop was the Lubyanka.
We arrived safely at Tolstoy's house to a pleasant surprise – free admission because it was Tolstoy's birthday. (Yay Us!) It was interesting to see a 19th century residence and where Tolstoy actually wrote some of his works. I took a picture of Tolstoy's bed. I kept asking where Pierre Bezuhov was, but no one got the joke.[1]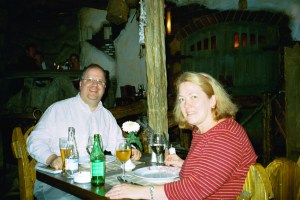 For dinner that night, we went to a Georgian restaurant. Georgia the country, not the U.S. state. For appetizers, we ate some Georgian cheese w/mint, Georgian vegetables, something unidentifiable, and Georgian cheesy bread. Elisabeth had a veal dish for dinner and I had Georgian chicken goulash. Elisabeth like the Georgian white wine and I liked the German beer. For dessert, we ate a piece of Georgian cake. It was just like eating in Tbilisi but without the armed invasion.[2]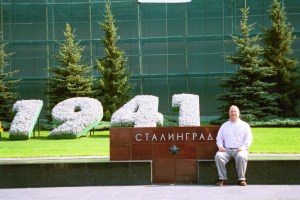 Sergei and Viktor met us at noon the next day. We put our bags in Viktor's car and he took us to the Russian Armed Forces museum. Viktor left us then to go take a university exam. Sergei took us around the large museum. We saw the development of the Russian military from czarist times to the present. There was even a section devoted to the forces who opposed the Bolshevik Revolution. Sergei dryly stated that such displays were not in the museum during the Soviet era.
I enjoyed the room dedicated to the siege of Stalingrad in World War II. Sergei enjoyed the display of actual tanks in the courtyard. Elisabeth enjoyed leaving.
Sergei then took us to a Russian-Ukrainian restaurant for a late lunch. Elisabeth really like the herring pie; I am not such an aficionado of herring. I tried the traditional borscht soup and Elisabeth tried the green borscht soup. Traditional borscht is made from beets, but also has onions, cabbage, pork, and other stuff in it. On the table, one then adds sour cream. Very tasty. For the main course, I ate some Russian dumplings, cabbage and pork. Elisabeth tried some chicken dish. We were all quite happy with our meals.
Viktor then drove us to Sheremetyevo Airport (SVO) to catch our evening flight to Kemerovo. We had several hours to kill before our flight. This set the stage for the Great Gin Rummy Tournament of 2005. Elisabeth surged to an early commanding lead. I slowly clawed my way back and took the lead on the final hand. Then we had to go check in for our flight. [The careful reader will note that the outcome of the game remains in doubt today.]
Check-in at Aeroflot was really just semi-organized chaos. We pushed our way through security and waited in line for about thirty minutes before we got to actually check in. While waiting in line, we met a couple from Florida going to Kemerovo to adopt a teenage girl. This couple was on their 2nd trip and would be bringing the girl home with them.
We learned that "no smoking" signs are just a suggestion in the airport. Luckily, we soon got on the bus that took us to our plane, a TU-154M. The TU-154M was the Russian equivalent of the old Boeing 727. The original TU-154 was designed in the mid-1960s Soviet Union. The TU-154M combined all the charm of a Soviet era design with 1980s technology. Unfortunately, we were traveling in 2005.
The NATO designation for the TU-154M is "Careless." Really. Google TU-154M and NATO and see what you find.
In a stroke of luck, all of the foreigners on the flight were seated in the economy section located between first class and the galley. It was quiet, and not so crowded. The Aeroflot meal was actually quite palatable. I and Elisabeth both had the chicken and pasta. On the down side, the crew turned up the temperature to about 85 F. We soon learned that some people on the flight did not understand the utility of deodorant.[3] It was quite uncomfortable.
We landed in Kemerovo the next morning. Elisabeth and I now looked forward to meeting this little boy. I will talk about our first meeting with Wallace in a later post.
[1] He is a major character in War and Peace. I read War and Peace in the 1990s when I lived in Japan and taught English. English language paperback books cost a small fortune in Japan so I bought the longest book I could find.
[2] "Russian Invasion of Georgia: How It Happened!" (http://ireport.cnn.com/docs/DOC-65820, last visited 28 September 2014.)
[3] In fairness to the good people of Russia, I have been on many flights in the U.S.A. that have offended my olfactory senses.