Fun Facts About Kemerovo, Siberia, Russia
[The Management disavows any borscht related content.]
Wallace was born in Kemerovo and I thought that I would highlight some of the more important facts about Kemerovo. Instead, I wrote this post. I also had some of the best borscht ever in Kemerovo.[1] I hope you enjoy this short traveler's guide to the "city of energy, engineering, and chemistry."
1. "Kemerovo is quite civilised. You can expect that phones are working here"
http://www.e-kemerovo.com/kemEn.html
This is an interesting quote with which to start. However, I can attest that every telephone that I used in Kemerovo indeed worked. I applaud the Kemerovo telecommunications industry. I applaud the original author on his use of British English.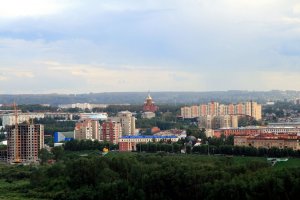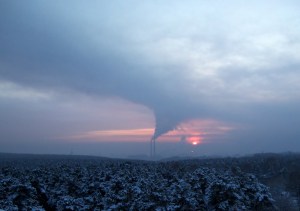 2. Kemerovo lies on the Tom River
https://en.wikipedia.org/wiki/Tom_River
The Tom River even looks like a balding, but still handsome, kind of river. Most other rivers are jealous.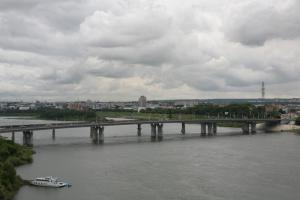 3. "Take a tour of the massive coal strip mine just outside Kemerovo, which fueled Russia's industrial revolution under Stalin's 5-year plan"
http://wikitravel.org/en/Kemerovo
I would probably downplay this on any "To Do" list. Most people probably do not refer to Josef Stalin as, "noted environmentalist." Kemerovo is also home to some good examples of communist public art which provide a nice juxtaposition to American examples of public art.
4. "We do recommend that you avoid arguments with drunk people[.]"
http://www.e-kemerovo.com/kemEn.html
This is actually good advice for visiting the International Space Station or anywhere in the world. I do wonder why the author of e-kemerovo.com found it necessary to make this specific recommendation. Elisabeth and I never really encountered drunk people during our two visits to Kemerovo. We did encounter many people who consumed borscht on a regular basis.
5.Kemerovo is home to a statue of space pioneer, Alexey Leonov
http://www.tripadvisor.com/Attraction_Review-g811326-d6781836-Reviews-Ust_pilot_cosmonaut_twice_Hero_of_the_Soviet_Union_A_A_Leonova-Kemerovo_Kemerovo_.html
Alexy Leonov actually participated in two historic space missions. First, Mr. Leonov made the first ever spacewalk (extravehicular activity or EVA) in 1966. Later, in 1975, he commanded the Soviet Soyuz team that was part of the joint Apollo-Soyuz mission to space.
Science fiction writer Arthur C. Clarke dedicated 2010: Odyssey Two to Mr. Leonov and Soviet dissident Andrei Sakharov. [I have a huge man crush on Alexy Leonov.]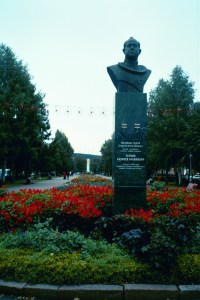 6. The name "Kemerovo" was probably derived from the Turkish "kemer" (a mountain slope, a bank, a ravine, a hill, a mountain). Kemerovo City Day is celebrated on June 12
http://russiatrek.org/kemerovo-city
This fact is not nearly as exciting as Alexy Leonov and actual working telephones. Here is some Russian humor to brighten your reading experience. I present this joke exactly as apparently translated from Russian:
The guy is sitting on the beach. He wants to go swimming, but he is afraid that somebody is going to steal his belongings. So, before go swimming he wrote the note and put it on top of his things:

– "If somebody try to steal my things I am going to beat him up very badly!!! "
P.S. Champion In Boxing.
He comes back after swimming – all his stuff is missing and he sees the note instead of them:
– "First you have to try to catch me !!! "
P.S. Champion In Running.
http://www.russianjokesinenglish.com/other-subjects-jokes/
7. "Few people here speak English, and most of those that do are younger. So don't expect that a General Director of a mine will be able to speak to you without an interpreter."
http://www.e-kemerovo.com/kemEn.html
You have now been warned about visiting Kemerovo when your plans include meeting a General Director of a mine. I estimate that Elisabeth will eat borscht with Spam before traveling to Kemerovo to meet the senior leadership of a mining company.
One of my most vivid memories of Kemerovo is having to go with our translator in the middle of the night to buy medicinal vodka for Wallace. This is an absolutely true story. Wallace was ill and our translator had called the Russian version of 9-1-1. The responding EMTs recommended we go get some vodka. It was bitterly cold (late November) and the wind blew fiercely that night. Fortunately, we found a 24 hour grocery store that had a wide selection of vodka. [Wallace did get better.]
One of my other memories of Kemerovo taking an hour to walk to the Great Patriotic War (World War II) memorial near the Tom River. This memorial reminded me of how that war really did affect people all over the world. On a lighter note, the memorial had a lovely floral display.
8. A raccoon may soon become the gang leader of all the animals in the Yekaterinburg Prison Zoo.
http://weirdrussia.com/2015/04/29/smart-looking-raccoon-to-become-an-animal-gang-leader-in-yekaterinburg-prison-zoo/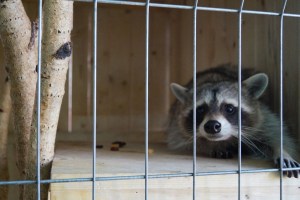 I know this is not Kemerovo, but I found it interesting that a prison 1) has a zoo and 2) that animals have some type of managerial control in the prison zoo.
[1] The Management will not beet around the bush about its displeasure regarding borscht related content.
[2] The Management is aghast at these nearly endless references to borscht.